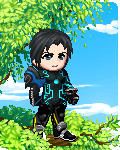 (Redirected from: Robin's attire)
Robin wore this suit during his time on the Terran colony ship Pioneer 2 where he would later end up destroying one of the 2 halves of the Del Crystal. Robin originally obtained the suit after joining the Hunter's guild, but was allowed to keep it once he left Pioneer 2 to travel the stars once more.
Ad blocker interference detected!
Wikia is a free-to-use site that makes money from advertising. We have a modified experience for viewers using ad blockers

Wikia is not accessible if you've made further modifications. Remove the custom ad blocker rule(s) and the page will load as expected.