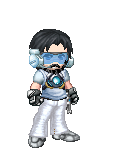 (Redirected from:
Robin's attire
)
Robin was given this attire after joining the GUARDIANS and was ordered to accompany the Divine Maiden Mirei Mikuna to the festival. When the SEED invasion hit the colony however, he escorted the maiden out of the station and down to one of the colonies saving her life from the invasion.
Ad blocker interference detected!
Wikia is a free-to-use site that makes money from advertising. We have a modified experience for viewers using ad blockers

Wikia is not accessible if you've made further modifications. Remove the custom ad blocker rule(s) and the page will load as expected.